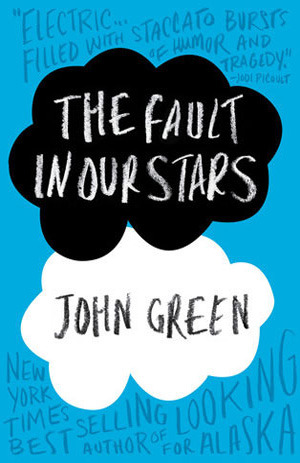 By

John

Green
Published By: Dutton Books
Genre: YA
Source: Borrowed
Rating:
Yes, 6 stars!
Goodreads
Synopsis:
Despite the tumor-shrinking medical miracle that has bought her a few years, Hazel has never been anything but terminal, her final chapter inscribed upon diagnosis. But when a gorgeous plot twist named Augustus Waters suddenly appears at Cancer Kid Support Group, Hazel's story is about to be completely rewritten.
My Thoughts:
I bet you've heard of this book, who hasn't? Now that the movie is out, practically half of the planet has read it. If you're one of the last people to read TFIOS, let's just say this is your message, your ''sign'. I would like you t o stop reading this, and buy the book, right now.
Here's a handydandy link, you get free shipping when you use it:
http://www.bookdepository.com/Fault-Our-Stars-John-Green/9780525426004/a_aid=sgajia
Okay, you ordered it. All you can do is wait. AND, read this review.
Characters:

Hazel Grace:
This is ultimately my favorite character. Ever. She is so strong and brave. She fights for what she believes in, and I think that is a powerful superpower. And also, isn't that a beautiful name? It's my future daughter's name, too.
Augustus Waters:
This is my prince charming.. I want him for myself! The picnic scene was so adorable!
Issac:
What can I say? I love how John Green made him 3D even though he was a supporting character.
RE-READABILITY
Writing this already made me want to reread it!