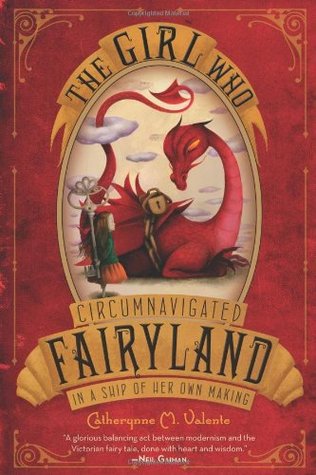 Series:
Fairyland
Publisher/Year:
Published May 10th 2011 by Feiwel & Friends
Genre: Fantasy
Format: Hardcover
Source: Gifted
Goodreads
•
Twitter
The Back Cover:
Twelve-year-old September lives in Omaha, and used to have an ordinary life, until her father went to war and her mother went to work. One day, September is met at her kitchen window by a Green Wind (taking the form of a gentleman in a green jacket), who invites her on an adventure, implying that her help is needed in Fairyland. The new Marquess is unpredictable and fickle, and also not much older than September. Only September can retrieve a talisman the Marquess wants from the enchanted woods, and if she doesn't . . . then the Marquess will make life impossible for the inhabitants of Fairyland. September is already making new friends, including a book-loving Wyvern and a mysterious boy named Saturday.
AfterShock:
Honestly, my first aftershock was: finally. I couldn't take it anymore. This book drained on and on on.
My Thoughts:
I, personally, did not enjoy the book. Here are some pros and cons:
PROS:
- This book was very uniquely writtten; Valente's writing style is extremely unique.

-

The story is so freakin' weird! In a good way. The story is neer before seen. There is another that I have EVER read in any other books.
CONS:
-

Valente's style is great at first, but for me, it didn't work.

- This is actual a personal thing (and not the author's fault at all) but the vocabulary was far larger than mine.

- As I mentioned before; this book went on and on on! I got bored very easily!

- At first the specific description was very cool; but afterwards it would get boring and long!

- Honestly, I'm just not a big fantasy fan!
Rating:
Who I Would Recommend It To:
I would recommend it to big fans of fantasy, and people with big vocabularies!