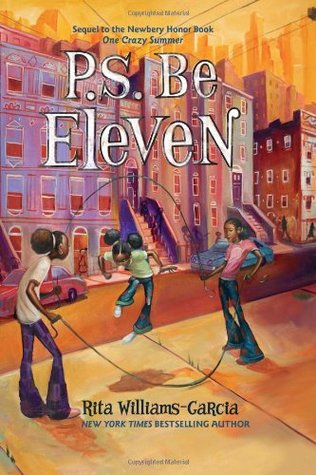 P.S. Be Eleven
by
Rita Williams Garcia
Series:
The Gaither Sisters (#2)
Publisher/Year:
Published May 21st 2013 by Amistad
Genre:
Middle Grade
Format:
Audiobook
Source:
Bought
GOODREADS
•
TWITTER
The Back Cover:
After spending the summer in Oakland with their mother and the Black Panthers, Delphine, Vonetta, and Fern arrive home with a newfound streak of independence, and the sisters aren't the only ones who have changed. Now Pa has a girlfriend. Uncle Darnell returns from Vietnam a different man. But Big Ma still expects Delphine to keep her sisters in line. That's much harder now that Vonetta and Fern refuse to be bossed around. Besides her sisters, Delphine's got plenty of other things to worry about-like starting sixth grade, being the tallest girl in her class, and dreading the upcoming school dance (her first). The one person she confides in is her mother, Cecile. Through letters, Delphine pours her heart out and receives some constant advice: to be eleven while she can.
My Thoughts:
As a sequel this book wasn't as good as the first one. But it was still pretty good. I listened to it as an audiobook (it was a good one by the way).
The first book was such an experience. I was excited for this one.
ILOVED
to see the difference between the 6os in California and in Birminham
My Rating:
Who I Would Recommend It To:
I recommend this book to anyone who read the first book and anyone who enjoys reading about the civil rights movement.