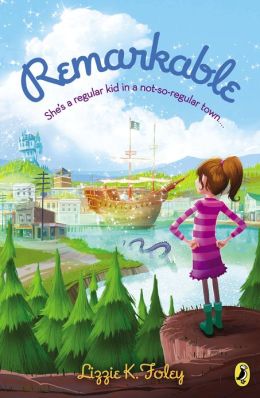 By Lizzie K. Foley
Published By:
Dial
Genre:
Middle Grade
Source:
Bought
Rating:

Summary:
In the mountain town of Remarkable, everyone is extraordinarily talented, extraordinarily gifted, or just plain extraordinary. Everyone, that is, except Jane Doe, the most average ten-year-old who ever lived. But everything changes when the mischievous, downright criminal Grimlet twins enroll in Jane's school and a strange pirate captain appears in town.
Thus begins a series of adventures that put some of Remarkable's most infamous inhabitants and their long-held secrets in danger. It's up to Jane, in her own modest style, to come to the rescue and prove that she is capable of some rather exceptional things.
My Thoughts:
Well, it's not what I would say ''a great book''. It's an okay book, not something that would make you toss and turn at night, not one that you remember for a while, not something that makes you feel warm inside. Just a average book, a pass time. I don't say that I regret reading the book, it's just... I think I could have read something a little better.
Re-readability:
Not big.
Recommend To:
Children from age 8-10